We woke up early to drive from the RV park to the starting point of the day in Dinosaur, CO. After looking at the route for the day Shane announced that this was probably the toughest day left, with a great look of excitement on his face. For me on the other hand, that could only mean one thing, pain, and a great deal of it.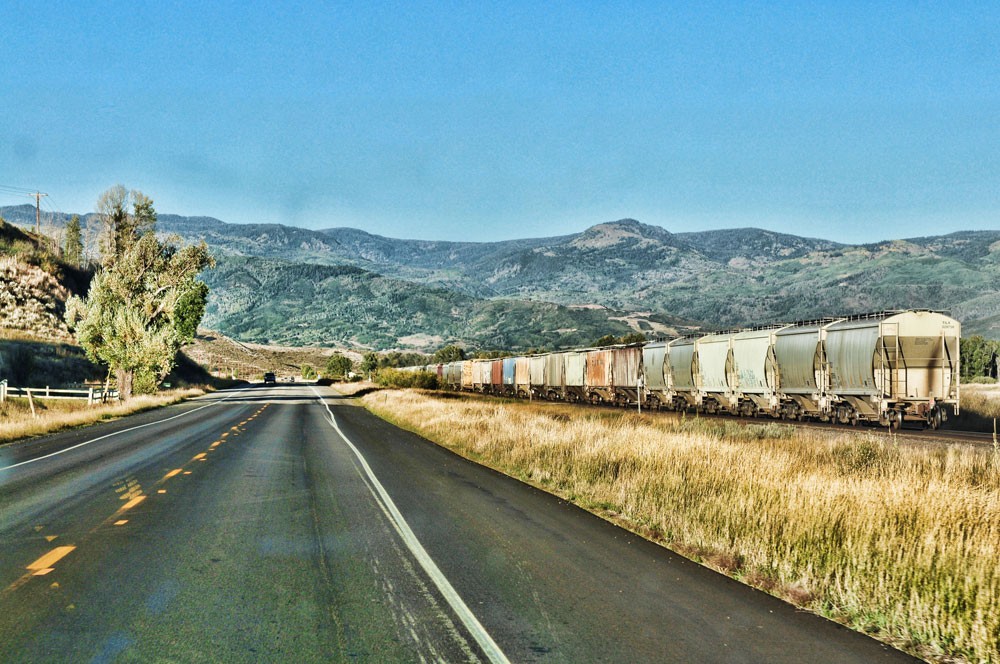 We got the bikes ready and headed out, hoping that both Shane's knee and mine would hold and hopefully improve. I can't speak for Shane but I will say the first 15-20 miles are pretty awful, your muscles take a while to warm up in the cold conditions the morning brings, and your brain is questioning why you are doing such a thing. We're not sure exactly what caused Shane's knee problems, but thankfully the situation seems to have improved with the new cleates. I haven't rode since doing RideLondon with Shane back at the end of July, where my left outside knee was very sore after, I'm not certain, but from extensive Google self-diagnosing I think I have IBS. No, thankfully not the condition which would cause problems inside this enclosed RV, but Illotibial Band Syndrome that often occurs when running or cycling due to continual rubbing. The pain soon returned even on the first day, but luckily seems to be manageable after the first part of the day.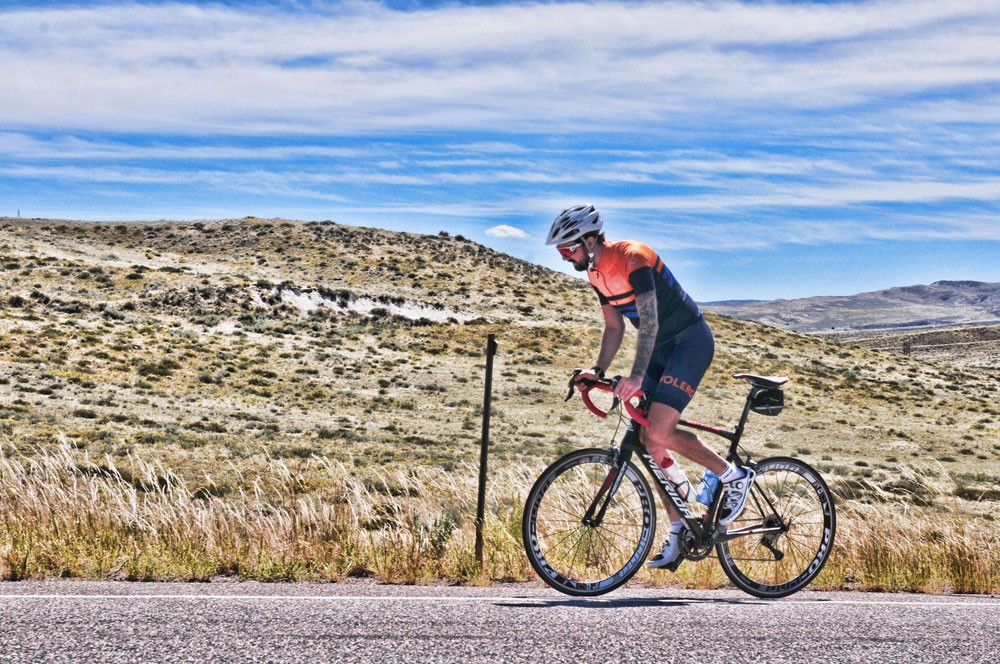 The day was set out to be 120 miles, with around 5000 feet of elevation. Despite the pain, the day started out quite good. The RV caught us up just at the right point, and it was business as usual as we ate breakfast. Despite getting looks of disaprovement from 'proper RVers' as I like to call them, this unlikely bunch are actually very formidable and the setup they have now works really well so far.
This was my first experience since we left Salt Lake City being properly in the middle of nowhere, but despite that we came across a solo-cyclist heading from Masechussets to California who gave us a brief description of what we've to come. He had stayed in a town that we would pass through in 10 miles with a population of 7! Apparently they were welcoming though and gave him a cabin to stay in overnight, which I'm sure made a nice change from his small tent. After we went through that town which basically consisted of two houses and a couple of buildings, we headed onto a straight road with not much else. The signs we passed stated the closest place, but they were 90 odd miles away!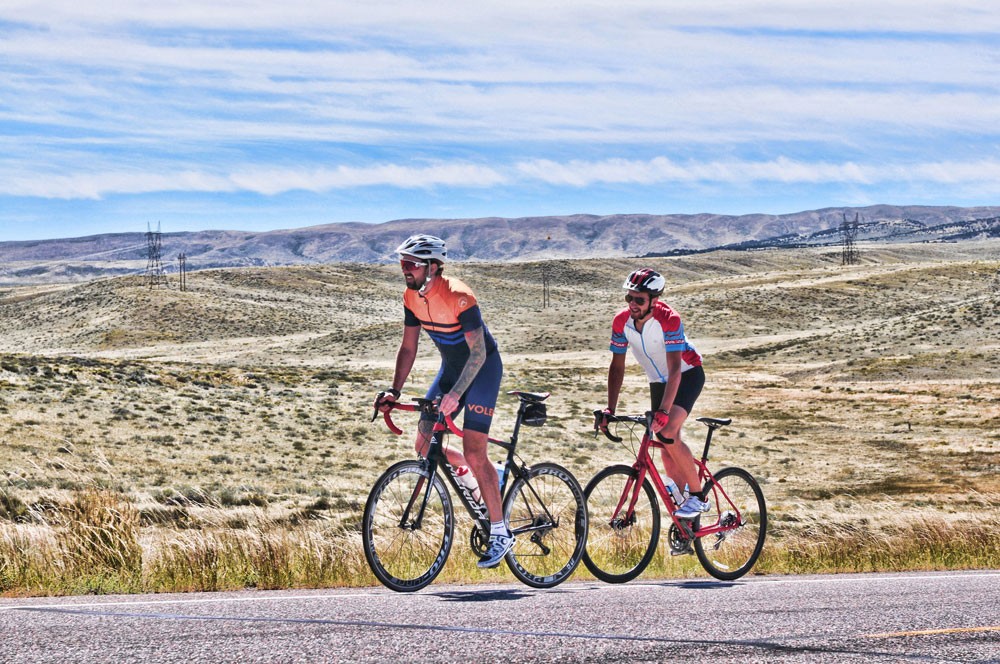 It started heating up, but the hills were unforgiving. Many times in the journey your brain is screaming to give up, but Shanes wheel bumbling along in front is usually enough motivation to push through it! At this point in the journey we're pretty high up, about 8000 feet, so that can be a challenge itself. Our destination for the evening (Steamboat Springs) is mostly a ski resort at just under 10000 feet for example. We worked out that roughly 80% of the day we'd been pointing at the sky, with varying degrees of gradient. After finishing, the mood in the van was quite high, Shane sat in the front explaining how he was surprised there were so many towns called Falling Rock in the mountains!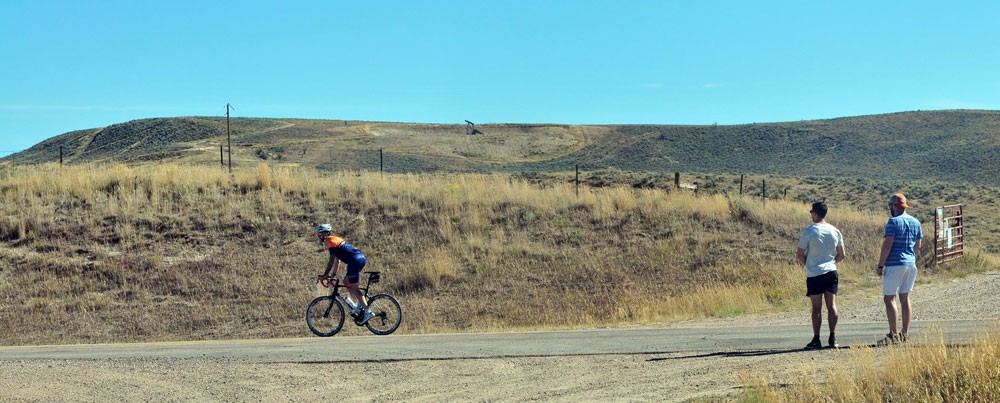 The descent out of the rockies start tomorrow, which will be a welcome sight!
Day 10
I was late starting this morning as I had one too many beers the night before! We found a nice bar and ended up having 6 or 7 pints before getting to sleep at around 11pm, our latest bedtime yet.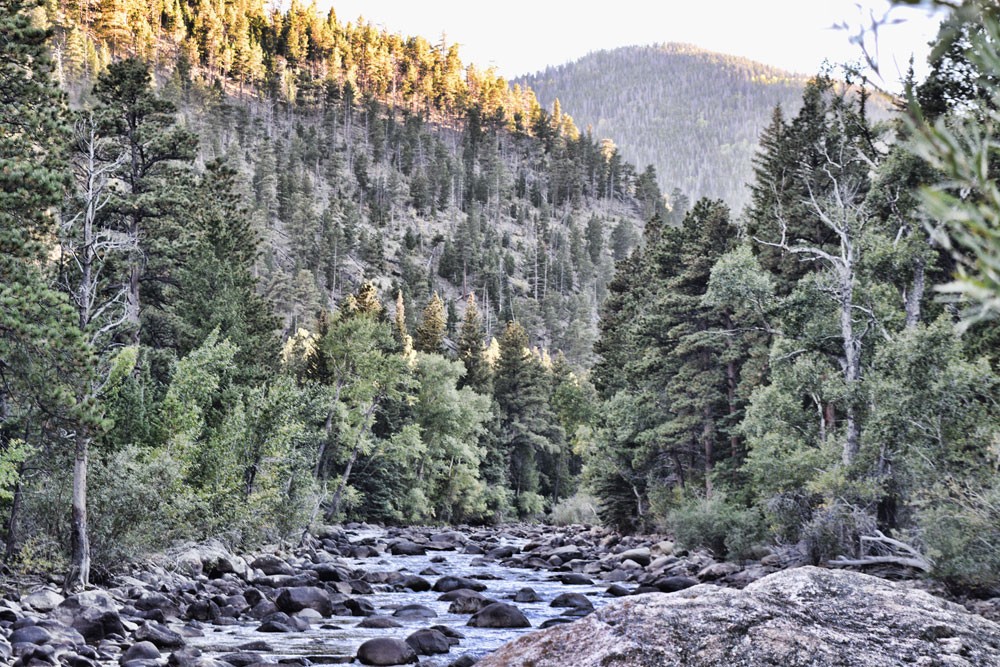 We set off from the top of the hill and it was really cold, I had jackets, gloves and overshoes on. Today was a descent for 40 mile, then a 40 mile climb, before another 40 mile steep descent. I have to say this was definitely my favourite day so far, the roads were absolutely stunning. Now that we've left Nevada everything is a lot more green, we've got trees instead of sand!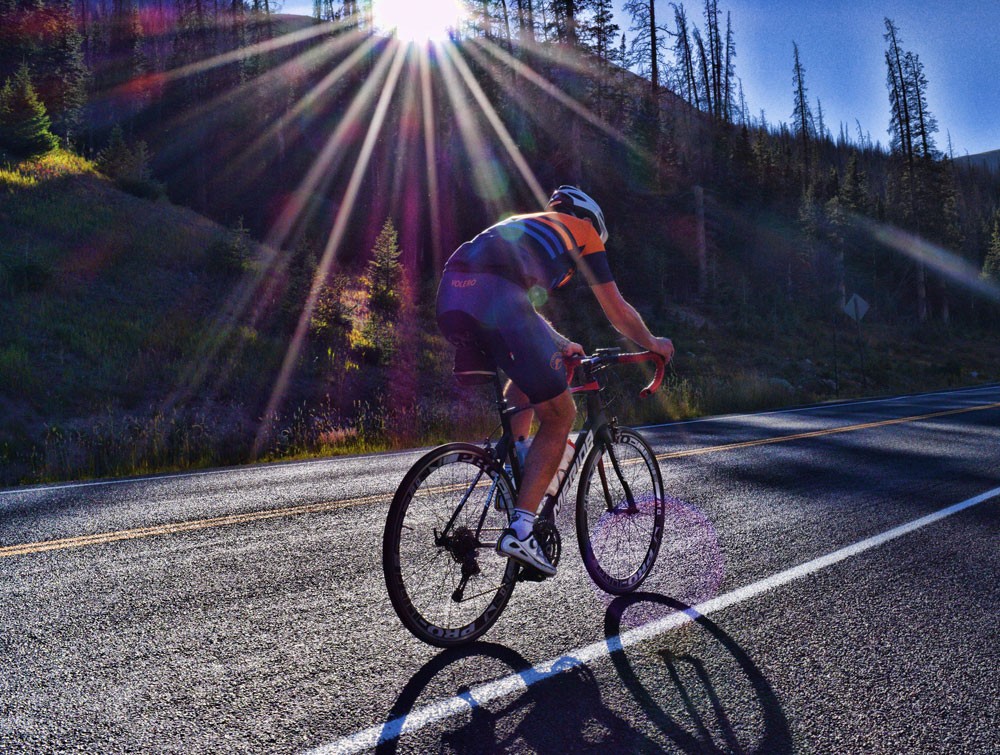 Jordan joined me at the start of the ride, it's great having some company and certainly takes your mind off things. Jordan said the initial descent was 'exhilarating', I would certainly agree! It lasted around 5 miles and was a great start to the morning, but little did we know we had a far better one later in the day!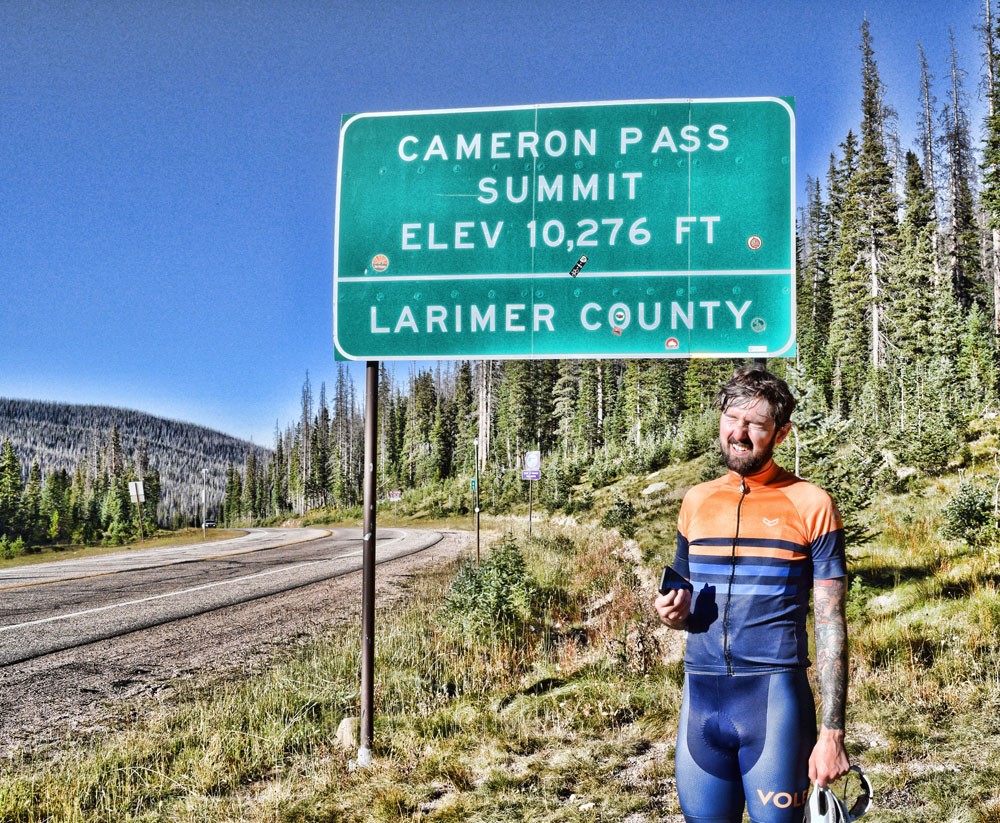 We made great progress to 50 miles but then I had a tough 30 mile climb before finishing at 10,000ft. Jordan sat out for two hours and I have to be honest they were absolutely brutal. Not massively steep, but the wind was causing trouble and I was reaching my limits. Jordan jumped back onto the bike for the last 5 miles uphill and they were really tough! I was glad to have reached the top!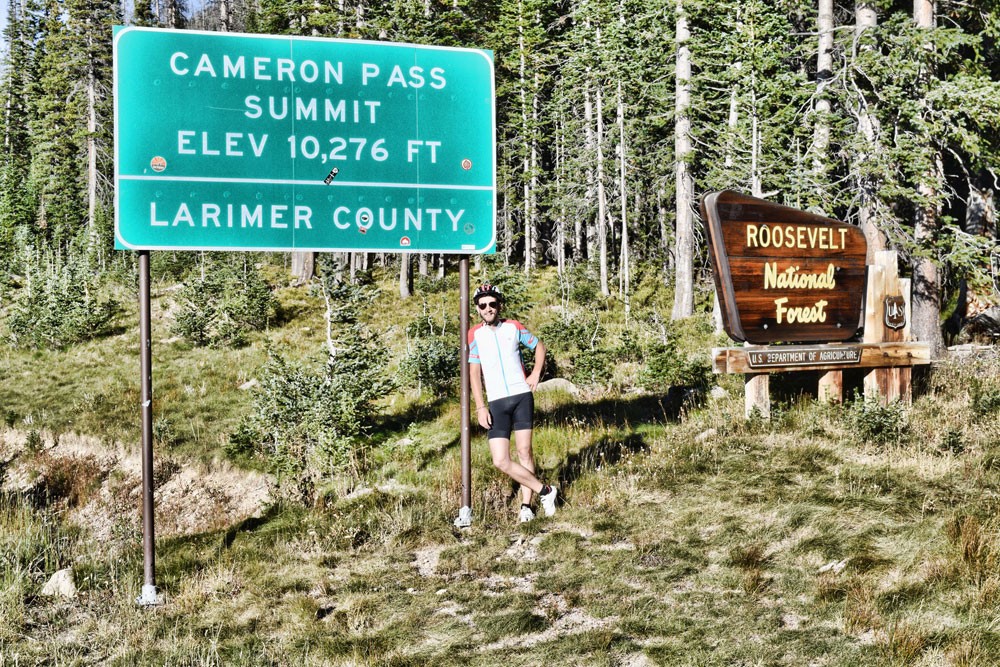 The descent was unbelievable, certainly the best bit of cycling I've ever done! We had a fast 15-20 mile descent where you didn't even have to pedal but I was belting it in my biggest gear, 40+mph all the way! The drop in elevation was sending me dizzy, around 2000ft in 20-30 mins, in total we descended 4000ft in a few hours! As we got lower the scenery was stunning, bombing it through mountain passes with streams running through.
I'm still feeling really good in the legs. My knee is a bit sore on the climbs but certainly manageable and improving daily. We're coming out of the hills so things will hopefully get a little bit easier for me, I'm hoping the days will be a little shorter which will mean more rest time on a night!
Share this
Recent posts