Today was one of my easiest days yet. We are still quite high up at 5000ft but we're starting to come down now. I had a hilly 40 mile but the hills were much more like the UK, lasting a mile or so.

It was warm today! We were hitting 30 degrees at 9am so I knew it was going to be a scorcher! Jordan joined me at the 25 mile mark and we finished the remaining hills together before we had a lovely 60 mile stretch of road with the wind behind us and a slight incline. We were flying at 20-25mph and it was a really enjoyable ride. However the heat was causing problems, it reached 38 degrees and water was constantly needed. I always seem to be cold in life so I wasn't really uncomfortable, just thirsty!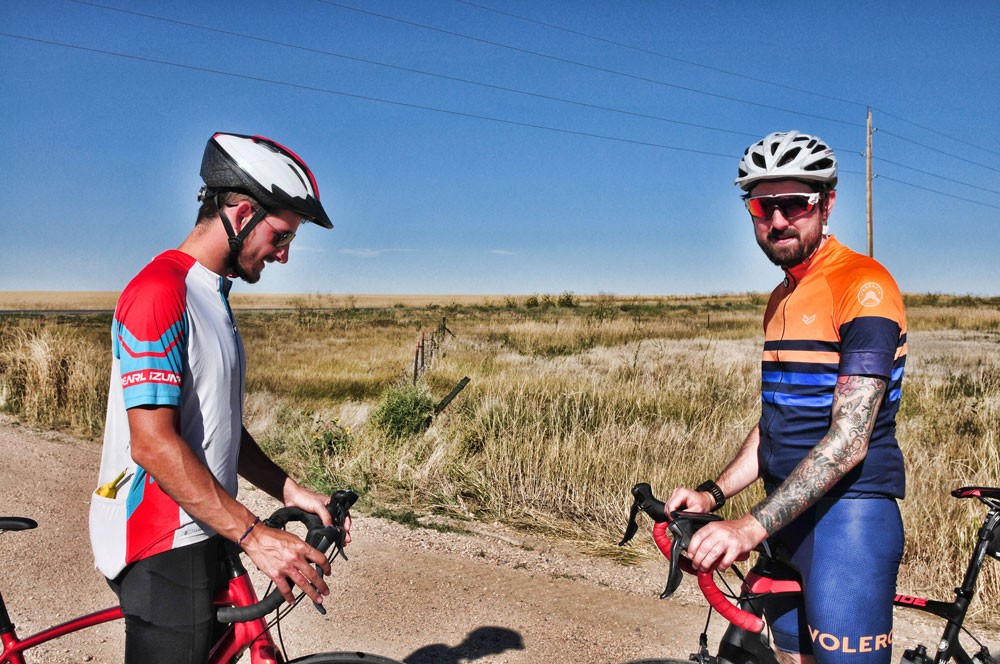 We turned south for the remaining miles and the wind was now coming across us, which made things much tougher! We had our last stop at around 10-15 miles before the finish and I was looking forward to riding the end with Jordan! For some unknown reason he then decided to ride through some corn field and fell off his bike! There are these little round things with spikes on and he – and his bike – was covered in them! He also had a puncture so that was him out of today's ride!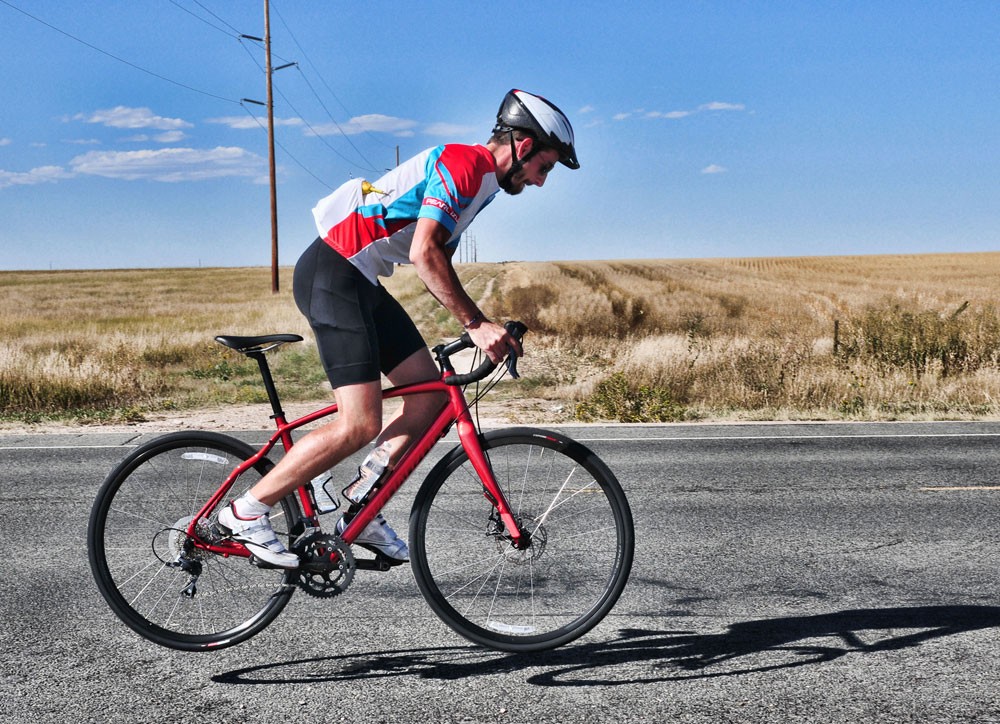 I have really enjoyed today after 10 really tough days. I'm hoping there's more of the same going forwards!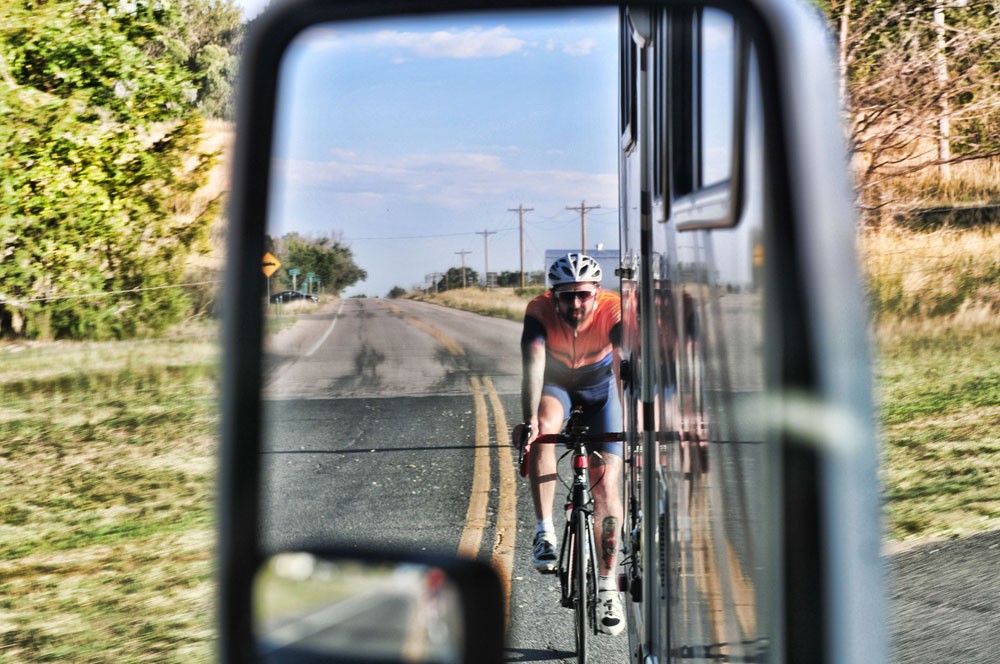 Day 12
I woke up this morning to some great news! I had surpassed my £10,000 fundraising target! It's a crazy amount of money and I'm really chuffed I managed to achieve it! Thanks to everyone who helped me!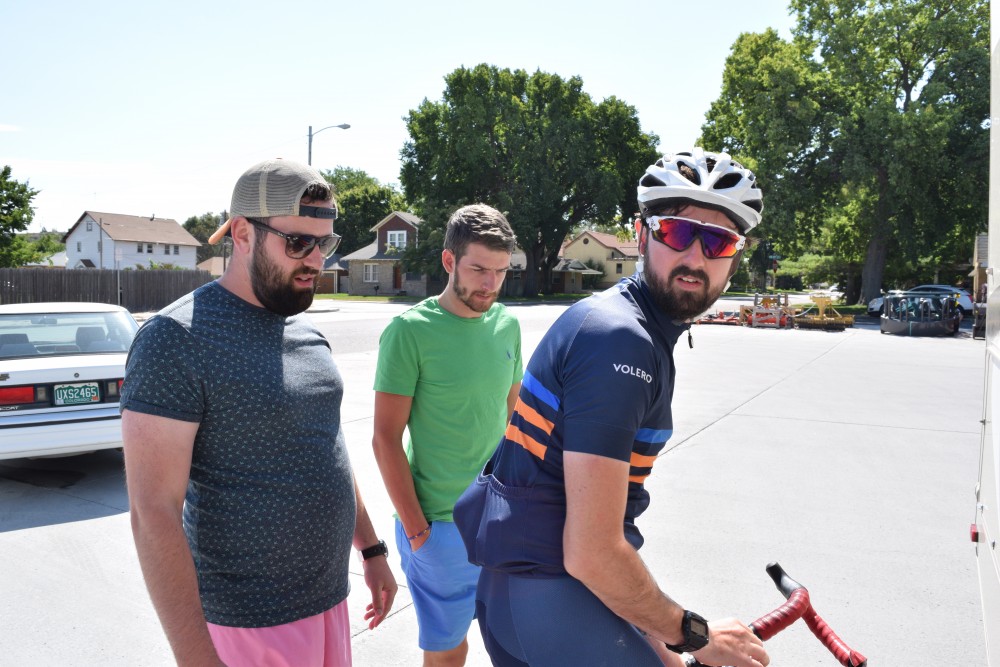 Today was supposed to be an easy route, a 60 mile light descent out of Colorado. This is the first time things haven't gone to plan weather wise as the sidewinds were ridiculous and causing serious problems. I stopped at a garage to check the weather report and there were 42mph wind warnings! It was hard to pick up any speed as a slight gust would blow you off the road. When a big truck comes past it was sending me flying. I ended up on the grass twice but luckily no damage!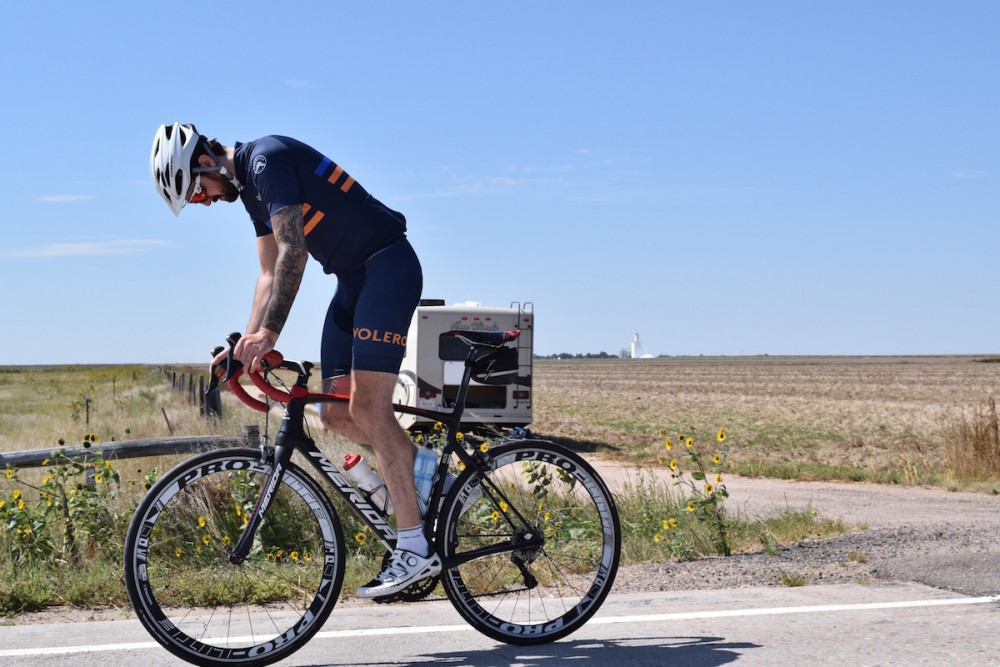 Because of this we decided to change to a south direction until my mileage was complete and then drive back to where we should be. I must admit this was an easy choice but it was almost midday and I had only achieved a 8mph average speed with the sidewinds. To make up for this I absolutely belted the hell of of it, like a dog on heat, 100 mile in 5h 12mins, an average of about 22mph and I bonked twice (when bonked you need to get as much sugar as possible inside you as fast as possible, I ate 6 cakes).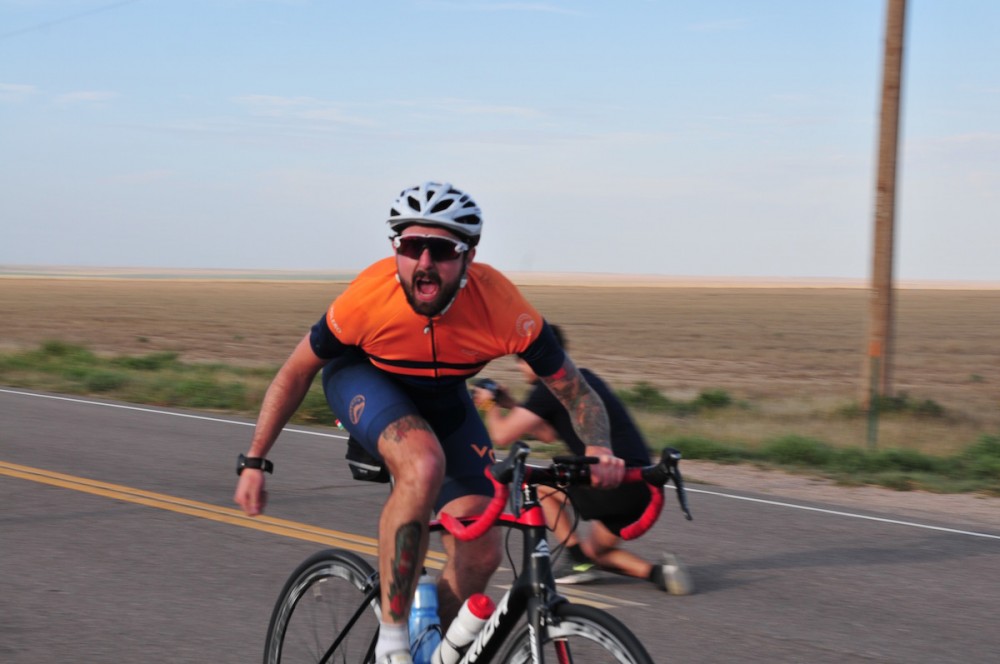 Today was a bit of a nightmare for punctures! Since Jordan fell into those spike things they're now constantly in pursuit of us!! Jordan amazingly had 3 punctures today! Rob also spotted my tyres were almost worn thin and I had a puncture myself. At one point Jordan had a puncture and I carried on, he stood by the side of the road for half an hour in the middle of nowhere waiting to be picked up!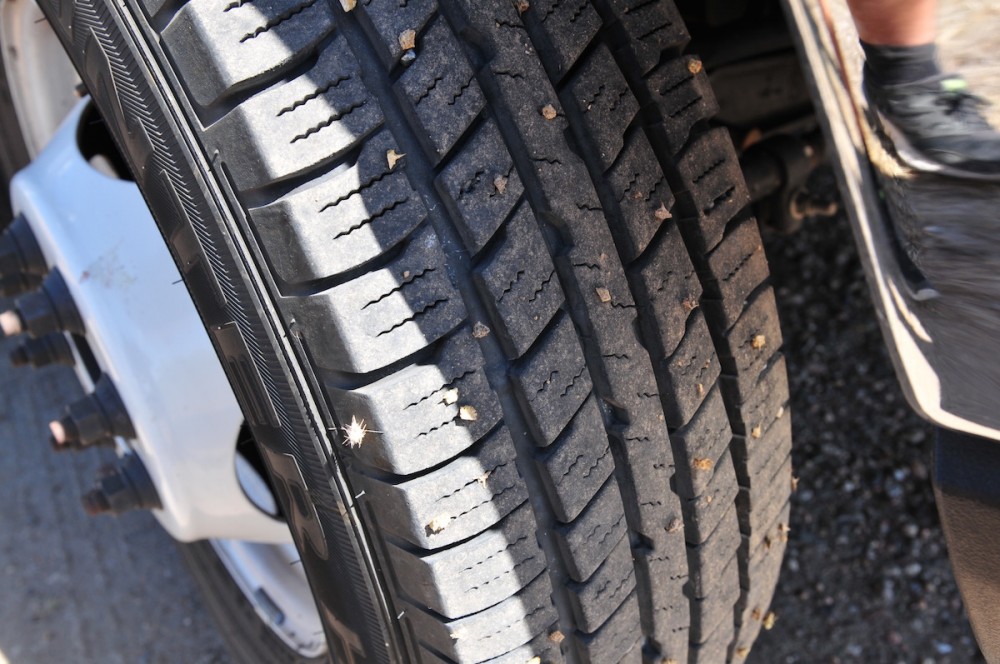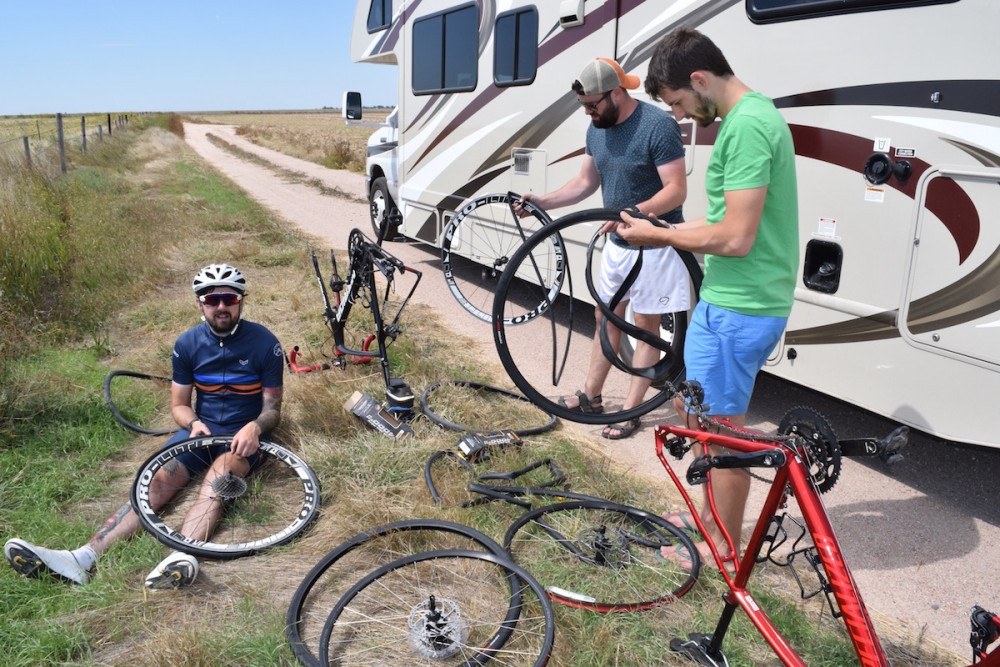 We're in a new state now, Kansas. I'm hoping the wind is a bit kinder tomorrow.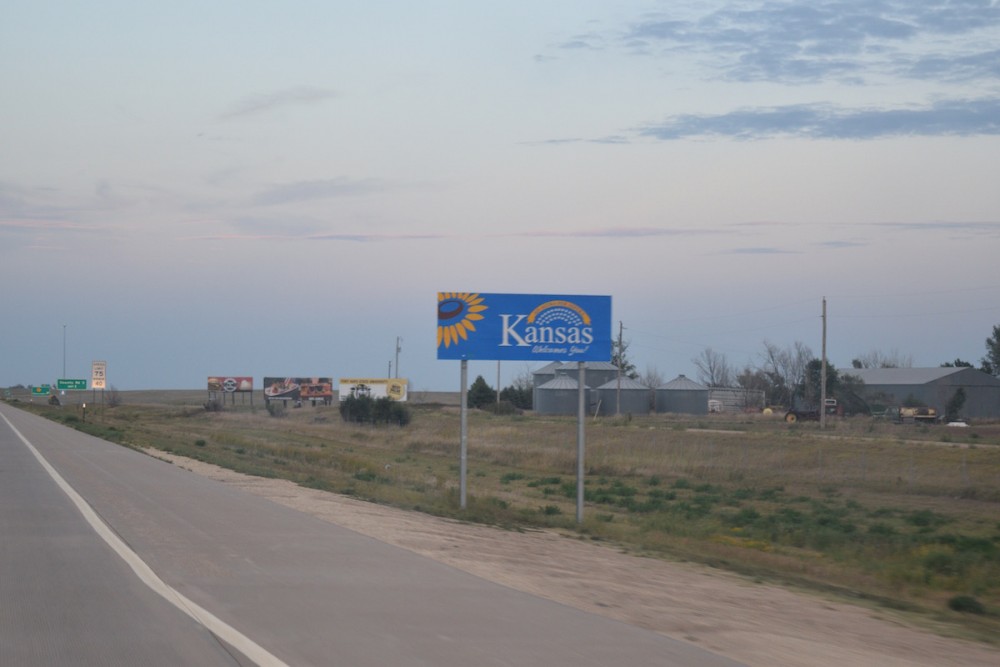 Share this
Recent posts